City of Literature
UNESCO has named Seattle a City of Literature, based on the vitality of its literary culture. Seattle is home to a wide range of writers, independent book stores, publishers on many platforms, and literary organizations. Seattle is also known for its reading culture and literary events and festivals. We partner with Seattle City of Literature on a variety of programs to promote engagement with local authors and books.
Seattle: UNESCO City of Literature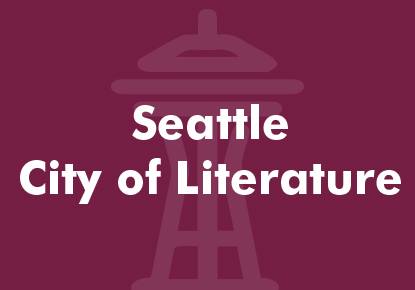 UNESCO chooses Cities of Literature to join its Creative Cities Network from all over the world. Seattle was added in 2017, based on:
The quality, quantity and diversity of published written works
The quality and quantity of educational programs
The importance of literature in Seattle's urban environment
The city's support of literary events and festivals that promote local and international work
Seattle's libraries, bookstores and cultural centers
Seismic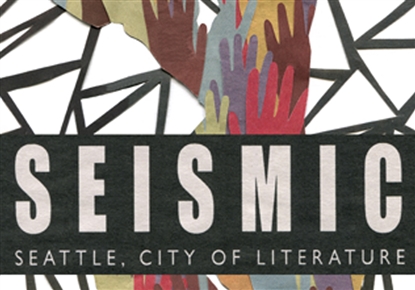 Seismic is a collection of essays that asks writers to consider what the City of Literature designation means for our city, and how literature might be an agent of change.
About Seattle City of Literature
Founded in 2013 to manage Seattle's bid to join UNESCO's Creative Cities Network, Seattle City of Literature is a nonprofit organization dedicated to serving our city's literary community by connecting it to the world.
In 2017, Seattle was designated a UNESCO City of Literature in the Creative Cities Network, and at the direction of Mayor Durkan, the Seattle City of Literature nonprofit helps manage the designation. This includes local programming and relationship-building with other Cities of Literature and Creative Cities around the world.
About Our Partnership
In 2019, we entered into a limited agreement with Seattle City of Literature, the Office of Arts and Culture and The Seattle Public Library Foundation to work together on programming that supports Seattle's City of Literature efforts. This agreement guides our work to support the Creative City designation for two years.
This agreement represents the city's support for these efforts and makes the Creative City designation part of our work as a library system. During this time, the role of the Seattle City of Literature nonprofit organization is to advise programmatic decision making and to raise funds to help support program initiatives.
About UNESCO Creative Cities
UNESCO, the United Nations Education, Science, and Culture Organization, started the Creative Cities Network to facilitate international relationships within creative industries.
Cities in the Network work together to:
Strengthen and expand cultural activities, goods and services
Develop hubs of creativity and innovation with more opportunities for creative professionals
Improve access to and participation in cultural life, in particular for marginalized or vulnerable groups and individuals
Fully integrate culture and creativity into sustainable development plans
UNESCO hopes that the Network can support urban development suited to the needs of the local populations. Creativity can help cities imagine new solutions to tackle common challenges globally.
Cities are designated in one of seven categories: Literature, Film, Music, Design, Craft and Folk Art, Media Arts, and Gastronomy. The network currently consists of 246 cities from around the world.