Special Collections
Our Special Collections celebrate Seattle's history and place in the Pacific Northwest. Learn about genealogy, aviation or Seattle's culture and history. Digging deep on a research project? Our reference librarians can help you with your genealogical or Seattle-related research. You can also access more than 30 special collections online.
The Seattle Room & Special Collections Video
Collections at the Central Library
The Central Library offers these collections:
Seattle Room and Seattle Collection: This collection features unique articles, news clippings, photographs, postcards, city documents, maps, atlases and illustrations, as well as autographed and signed works by famous Americans ranging from Helen Keller to T.S. Eliot. This collection is on Level 10.
Maritz Map Room: This collection contains over 40,000 circulating and reference sheet maps, and more than 100 current and historical atlases. This collection is on Level 9.
Aviation History Collection: Learn about aviation's early history through publications developed by airplane manufacturers Boeing, Curtiss and Douglas, from 1930 to 1950. Items in this collection are accessible through the Seattle Room.
Genealogy Collection: Search more than 40,000 items tracing the history of North American families, dating back to Colonial times. Reference librarians are available on Level 9 to help with your research. You can also make an appointment to work with a genealogy librarian one-on-one.
Collections at Branches
The Douglass-Truth Branch houses one of the largest collections of African American literature and history on the West Coast. A building expansion in 2006 greatly expanded shelf space for the collection. The collection features more than 10,000 items, including biographies, magazines, literature, music and films.
Special Collections Online
Browse special collections items from the Seattle Room online through our digital collections. Explore the history of the city through postcards, photographs, periodicals, maps, menus and more.
Featured Collection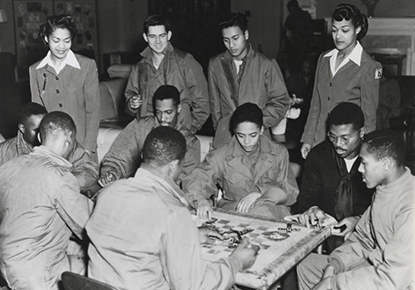 The Marjorie Sotero Photograph Collection documents service club activities at Camp Jordan, an Army camp for Black soldiers which operated at 1st Ave. S. and Spokane St. from 1944 to 1947. Marjorie Polk Sotero, the director of the Camp Jordan Service Club, and her sister, Kathryn Polk Lazard, collected the photos. The women helped coordinate entertainment and organize dances at Fort Lewis and Fort Lawton, including helping to integrate many of the segregated social activities and throwing Fort Lawton's first integrated dance.