Teens: Earn Service Learning Hours
Our Teen Services librarians offer Service Learning and Learning Buddies tutoring opportunities for high school students to make a positive impact in their communities while earning community service hours for high school.
Learning Buddies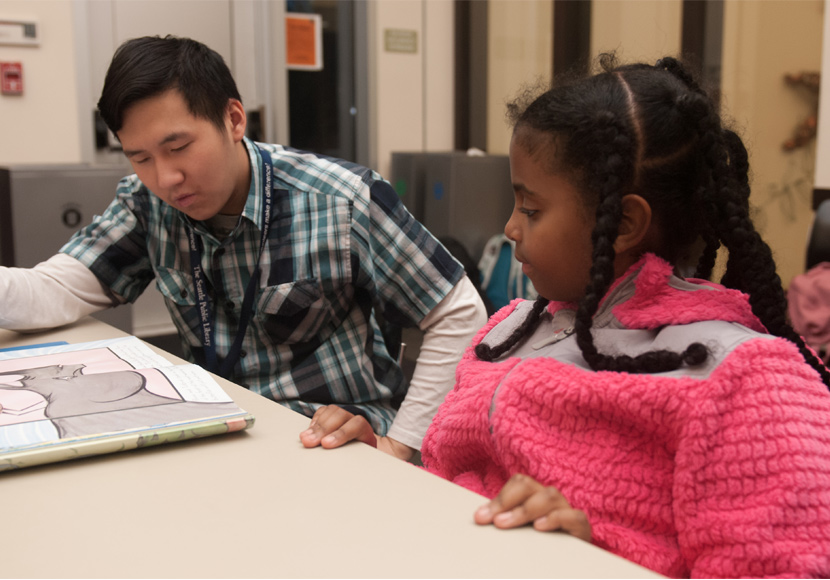 Learning Buddies is an education enrichment program for K-5 students for teen tutors to read and play academic games with kids.
If you are a high school student who enjoys math, reading and helping kids succeed in school, please consider joining us as a Learning Buddy.
Locations and Time Commitment
Learning Buddies tutor kids once a week. Opportunities are available at the following Library branches, October through December and March through May.
The West Seattle Branch's Learning Buddies program offers math learning activities.
Become a Learning Buddy
Qualifications
High school students must be at least 14 years old and attend school or live close to a Library branch that offers the Learning Buddies program. Qualifications and skills of successful Learning Buddies tutors include:
Good interpersonal communication skills.
Enjoy reading with kids and talking about books.
Able to explain basic math concepts to kids.
Be kind, patient, flexible and creative while you are helping kids learn.
Good organizational and time management skills. Teens are expected to arrive on time and participate in every session of the Learning Buddies series.
How to sign up
Please talk with the Teen Services Librarian a participating branch before filling out the online application, or email studentsuccess@spl.org for more information.
Beacon Hill Branch: call the Teen Services librarian at 206-684-4711
Columbia Branch: call the Teen Services librarian at 206-386-1908
Douglass-Truth Branch: call the Teen Services librarian at 206-684-4704
Greenwood Branch: call the Teen Services librarian at 206-684-4086
NewHolly Branch: call the Supervising Librarian at 206-386-1905
West Seattle Branch: call the Teen Services librarian at 206-684-7444
Teen Service Learning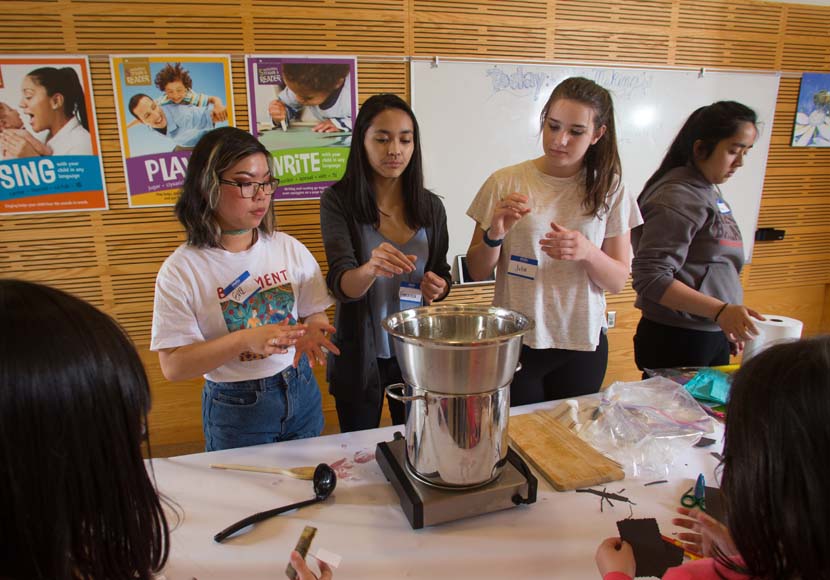 Teen Service Learning is a great way for you to help your community, develop skills for jobs and college, and earn service learning hours for high school. You will learn about community needs and work on service projects with other teens.
Join a Service Learning Program
Locations and time commitment
Teen Services librarians offer service learning at the following Library locations. Librarians help teens discover their own potential to affect change through discussions about community needs and service projects. Service learners meet with librarians at least once a month.
Other Ways to Earn Community Service Hours
Because it may not be possible to complete 60 hours of service at the Library, we suggest that teens provide services for at least two organizations during high school. Check out these websites for information about service learning opportunities for teens.
If you have a question or need help, email us or contact the Teen Services librarian at your library.