2022 Adult Book Bingo
Every summer we partner with Seattle Arts & Lectures (SAL) to create a Summer Book Bingo card for adults. If you achieve bingo or blackout, you will be entered to win fabulous prizes!
2022 Book Bingo
WHAT IF I NEED SOME READING IDEAS?
Browse reading suggestions selected by our staff and links to other websites with related topics.
You can also ask a librarian for recommendations with Your Next 5 Books or check out Peak Picks for other ideas.
You can also check the hashtag #BookBingoNW2022 on Twitter, Instagram, and Facebook to get ideas from fellow readers.
How to Play
Book titles may be used only once per card, and only one entry per person. For readers 18 and older.
For "Recommended by a Local Bookseller," consider visiting one of SAL's bookstore partners: Ada's Technical Books; BookTree Kirkland; Book Larder; Edmonds Bookshop; Elliott Bay Book Company; Estelita's Library; Island Books; Madison Books; Magnolia's Bookstore; Oh Hello Again; Open Books: A Poem Emporium; Paper Boat Booksellers; Phinney Books; Queen Anne Book Company; Secret Garden Books; Third Place Books (Lake Forest Park, Ravenna, and Seward Park); and University Book Store.
How do I win?
BINGO: Complete a horizontal, vertical or diagonal line! Turn in your card and you'll be entered into a drawing for a gift card to an independent book store (via generous donation from The Friends of The Seattle Public Library).
BLACKOUT: Complete all 25 squares! Turn in your card and you'll be entered in a drawing for one of three grand prizes — including a subscription to the 2022/23 SAL series of your choice!
How do I submit my card for the prize drawing?
Submit the front and back of your completed card (with either a bingo or blackout) in only one of the following ways:
DROP OFF your card (or a copy) at any branch of The Seattle Public Library.
EMAIL an image of the front and back of your card to bookbingo@spl.org
POST A PHOTO of the front of the card only to one of the Library's or SAL's social media channels using the hashtag #BookBingoNW2022
Entries must be received by end of day on Tuesday, Sept. 6, 2022. Do not a submit card more than one time—Thank You!
About the Artist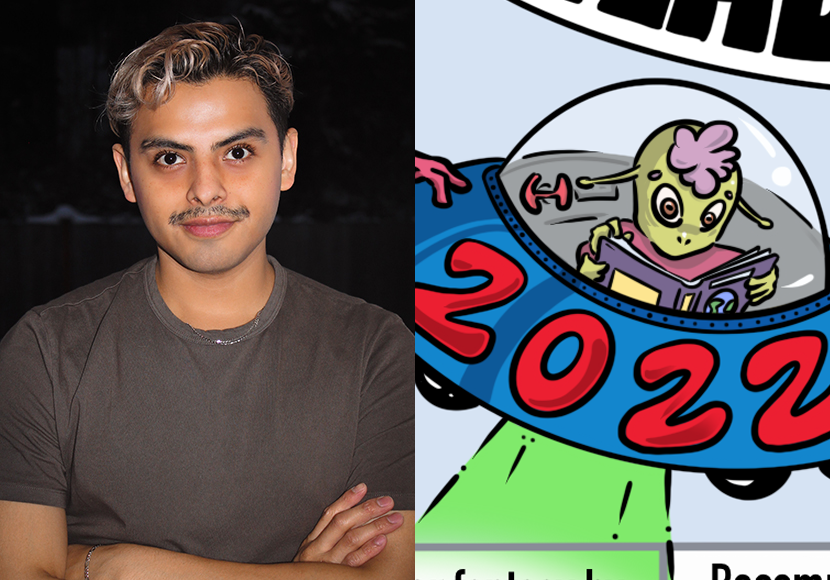 Jorge Villavicencio
Jorge Villavicencio (he/him) grew up in Washington State for the majority of his life and is a first generation American with familial roots in Oaxaca, Mexico. As a child, he would always be drawing or painting on any piece of paper that he could find (and sometimes not even on paper.) His parents recognized his love for all things creative and gave him the means to pursue it to his heart's content. As he grew up, he was able to appreciate the creative process, and all the art from where his family originated, the beautiful state and region of Oaxaca. Nowadays, you'll find him drawing cartoons or working on portraits as he travels around discovering all there is to see in this crazy world.
He draws his inspirations from his relationships with people and places that he's had the privilege to get to know. You can find Jorge's murals in San Diego and Everett, Washington. He creates wherever he goes and will continue to do so for as long as he can.