Experience The Great Seattle Fire in Virtual Reality
In 1889, the Great Seattle Fire destroyed 64 acres of the growing frontier town. We have created a virtual reality (VR) experience to show you what it might have been like to fight the fire as a volunteer firefighter. Through careful analysis of historic documents and photographs, the environment you experience is a historically accurate representation of Seattle in 1889.
About the Exhibit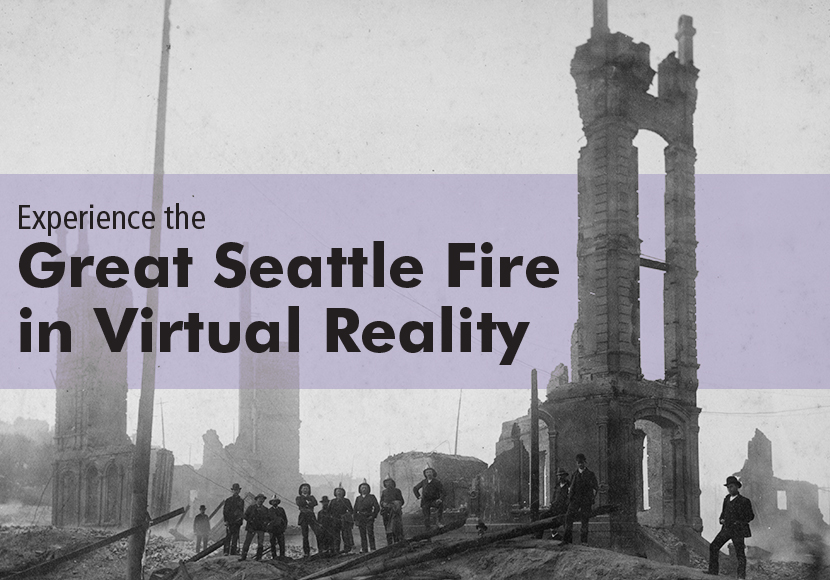 Monday, Feb. 11 – Friday, Mar. 1, 2019
Visit the level eight gallery Monday - Saturday, 10 a.m. to 4 p.m. to view displays of pieces from our collection related to the Great Seattle Fire, including images, reports and information about:
Seattle in 1889
The destruction caused by the fire
Personal stories of the fire
Rebuilding the city
Creating the Seattle fire department
Pioneer Square today
Note: you must be 12 or older to use the VR headsets.
The VR exhibit also includes access to our Special Collections online. Visitors can search and access Special Collections materials and manipulate them with hands and gestures in the Virtual Reality environment.
Virtual Reality
Two VR stations are available for you to experience the fire as a volunteer firefighter. Using the VR headset, you are challenged to help put out the fire using the tools available in 1889. The VR experience immerses you in a realistic depiction of Seattle at the time of the fire, based on historic photographs and documents.
Behind the Scenes - Experience The Great Seattle Fire in Virtual Reality
If you have a question or need help, Ask Us or call 206-386-4636.