We're Still Here
'We're Still Here' was an exhibit that featured art created by Chief Seattle Club members, including beadwork, woodwork, and two-dimensional pieces. The exhibit ran from November 7 to December 15, 2019.
About the Exhibit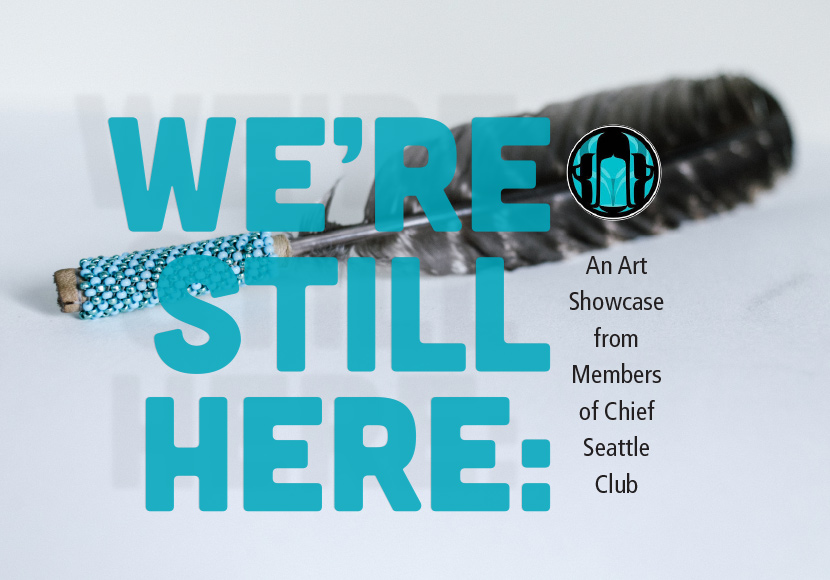 The Native community is resilient—made up of survivors. One of the best survival strategies has been art-making. Communities use art as survival, sharing traditional knowledge, preserving culture, celebrating our people, enriching daily life, and uplifting the human spirit. Whether from the city or reservation, Native art continues to thrive and broadcast the message "We're Still Here."
About Chief Seattle Club
"Chief Seattle Club provides a sacred space to nurture, affirm, and renew the spirit of urban Native people. We are a day center and a community center where we support our relatives. We believe in the power of our ancestral ways, and preserving our ancestral ways means fostering the good medicine of art. We, as members of Chief Seattle Club, are proud to present our work in partnership with our friends at The Seattle Public Library." - Chief Seattle Club
'We're Still Here' Artists
Kyu-Quot Olebar, Turtle Mountain Chippewa
Louisa (LouAnne) Olebar, Ka:'yu:'k't'h'/Che:k:tles7et'h' First Nation
Donovan Wauneka, Diné
Brenda Joseph, Tsimpsian, Haida, Coast Salish
Lloyd Dalton, Haida/Tsimpsean
Jason Runnels, Lakota
Benjamin E. Wind Spirit Bill, Pit River/Paiute
Ciro Marquez, Cora/Tsalagi/Uto Aztecal
About our Committee for Outreach Programming and Engagement
The Library's Committee for Outreach Programming and Engagement or COPE develops meaningful engagement, programming and outreach activities through partnerships with community-based organizations led by and for people of color. The organizations vary in size and focus, but each have deep equity practices that the Library learns from as we establish and fine tune our own accountable community engagement approaches. COPE partners have included the CD Forum, FIGHT, Chief Seattle Club, Estelita's Library, and Humbows Not Hotels.