Beyond the Frame
Beyond the Frame was a community-wide initiative revisiting the photographs of Edward S. Curtis to spark conversations on Native identity, race and resilience, art and culture. The exhibits were on view at Central Library from January 16 to April 30, 2018.
About the Exhibits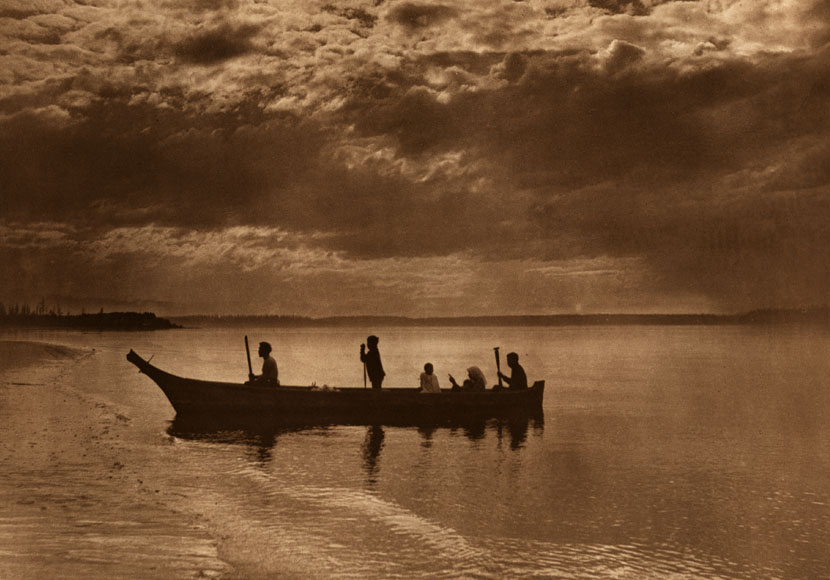 These exhibits and programs were part of the regional "Beyond the Frame: To Be Native." In 2018, more than 20 Northwest organizations and tribes used the photography of Edward S. Curtis to spark discussions about art, culture and place. This was an opportunity for all people to listen to Native voices, to engage anew with Curtis' work, and with each other. Finally, it was an opportunity to broaden our understandings about strength and resilience; power and perception; and identity. What is it to be Native, beyond the frame?
We would like to thank the people of the Tlingit, Haida, Kwakwaka'wakw, and Lummi Nations for their support and participation.
Living Cultures
Part I: Celebrating the Resilient Indigenous Cultures of the Pacific Northwest
Living Cultures was a photography exhibit that explored contemporary Native American/First Nations life of the Haida, Lummi, Tlingit, and the Kwakw ak a'w akw nations by Sharon Eva Grainger with narratives by tribal elders.
The exhibit ran from January 16 to April 30, 2018.
Central Library
Part II: Beyond The Frame
The Living Cultures exhibit included images from Edward S. Curtis's North American Indian series and contemporary photos by Sharon Eva Grainger, as well as objects from the cultures represented on display.
The exhibit ran from February 23 to April 30, 2018.
Central Library
Indigenous Stewardship of the Salish Sea
Northwest Washington's tribal communities have long recognized the importance of water and water-based resources in sustaining life in this region. This exhibit explored how the sea and the rivers, and the wealth of resources in them--the salmon, whales, tule, and shellfish--are important to the region's tribes and the work they are doing to protect those resources for future generations. Curated by Shannon Kopelva and Jennifer Ott. The exhibit was on view at Central Library from June 15 to August 30, 2018.
Friday, June 15 - Thursday, Aug. 30
Level 8 Gallery, Central Library
Symposium: Beyond the Frame: to Be Native
The symposium was at the Central Library from Nov. 16 to 17, 2018
Scholars, historians, Native American community leaders, and students examined the work of Edward S. Curtis and moved beyond the frame of his work to explore concepts of authenticity in art, tribal sovereignty, environmental activism and Indigenous ways of knowing.
Featured sessions:
Clay Jenkinson: Opening and closing remarks
Tim Greyhaven: Unframing Edward Curtis
Marna Murray: Inside the Frame
Elizabeth Brown: Look Again--Curtis as a Visual Artist
Vaun Raymond: Curtis at the Rainier Club
Coll Thrush: The Vanishing Race Narrative
Kathryn Bunn-Marcuse: Reframing Boas
Emily Washines: Relations
John & Coleen Graybill: Descendants
Go Home Collective: Contemporary Indigenous Artist
Dan Kerlee: Edward Curtis in Hollywood