Curbside Pickup Service
While Library buildings are closed you can pick up your Library items at one of our curbside pickup service locations. You may pick up items by car or on foot.
On Nov. 15, the governor announced new restrictions due to a surge in COVID-19 cases. The restrictions do not impact libraries and our Curbside Pickup Service will continue for patrons as scheduled below.
Curbside Pickup Service Locations and Hours
Curbside Pickup Service is available Tuesdays, Thursdays and Saturdays - noon to 6 p.m. at:
Curbside Pickup Service is available Wednesdays, Fridays and Sundays - noon to 6 p.m. at:
How to Pick up Your Items
At these curbside locations, you can schedule an appointment using myLibro App or by phone and we will have your holds checked out and waiting for you when you arrive. Appointment slots are limited but appointments are not required.
At these curbside locations, service is walkup only (no appointments).
Schedule an Appointment
Don't want to wait in line? At some curbside locations, you can schedule an appointment for pickup at and we will have your holds checked out and waiting for you when you arrive. Appointment slots are limited, and appointments are not required.
There are three ways to schedule an appointment and manage your curbside service pickups:
Call 206-386-4636
Log in to the myLIBRO website with your Library barcode and PIN
To schedule a pickup with the myLIBRO app:
Install the app, select ' Create an Account'

Choose The Seattle Public Library
Enter your name, your Library card number and PIN

Tap ' Schedule Pickup' and choose a location, date and time (you can reschedule if needed from the 'Schedule Pickup' - tap 'Reschedule' on the 'My Schedules' screen).
When you are on your way, please tap the ' I'm on My Way' button by selecting the scheduled pickup on the 'My Schedules' screen.
Peak Picks for Curbside Pickup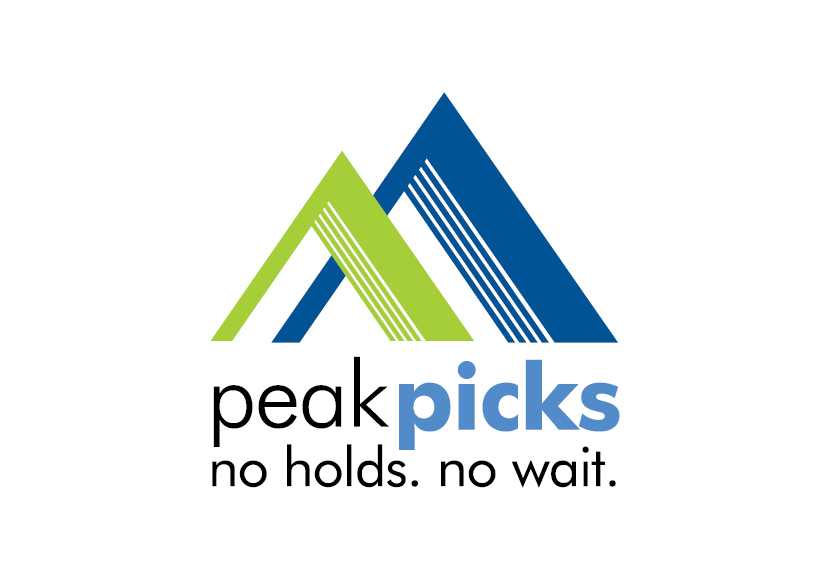 All curbside pickup locations have a selection of Peak Picks titles available on a first come, first served basis. You can choose any title shown on the daily menu to check out for two weeks. Peak Picks are best-sellers and popular titles available with no holds and no wait, and are available to check out during curbside pickup hours with no appointment needed.
Place New Holds
You can place up to 25 holds at a time on your account from our online catalog. Once you receive an email notification that your holds are ready to be picked up, you can pick your holds up at the branch listed in the email.
Please remember to cancel holds you no longer need and be aware that appointments may not be available in the next few days: look further out for availability.
How to Return Your Items
The Library is now accepting returns at 13 Library locations every day from 10am to 6 p.m. or until book returns are full. You may drop off your items at any of these locations:
Using myLIBRO for scheduling your pickup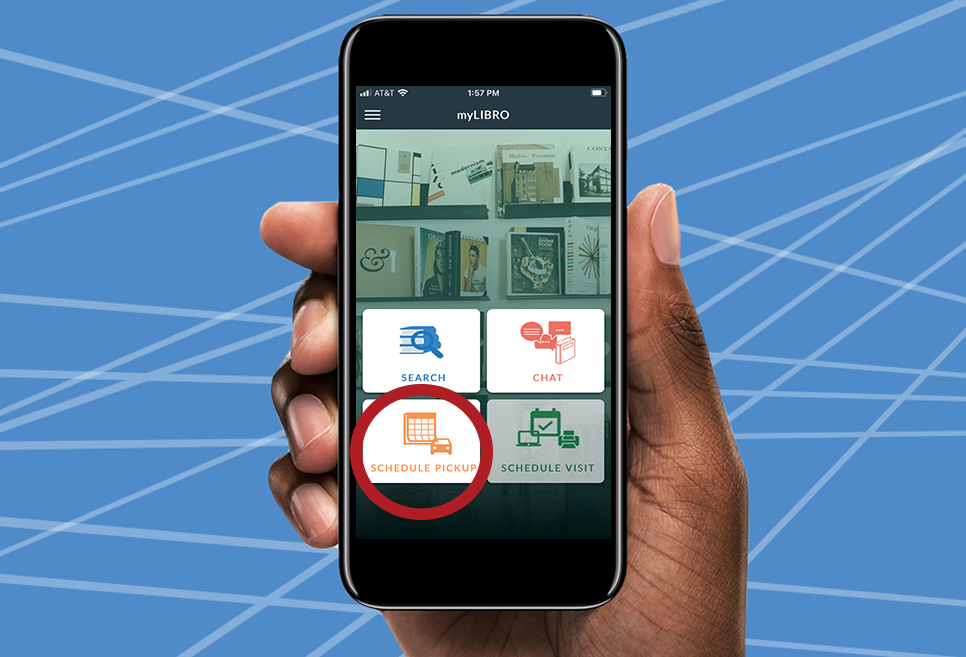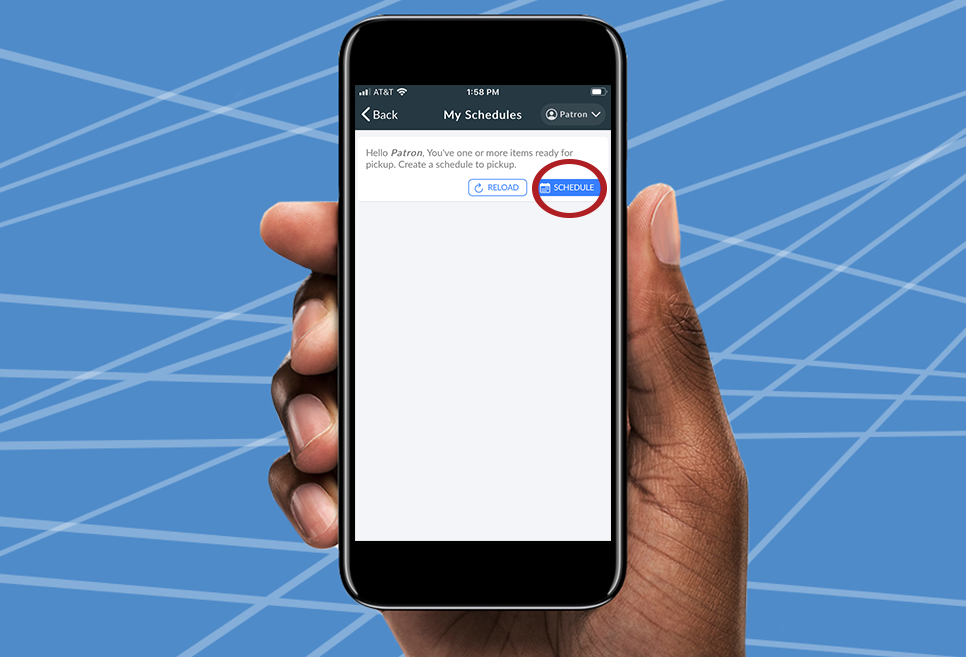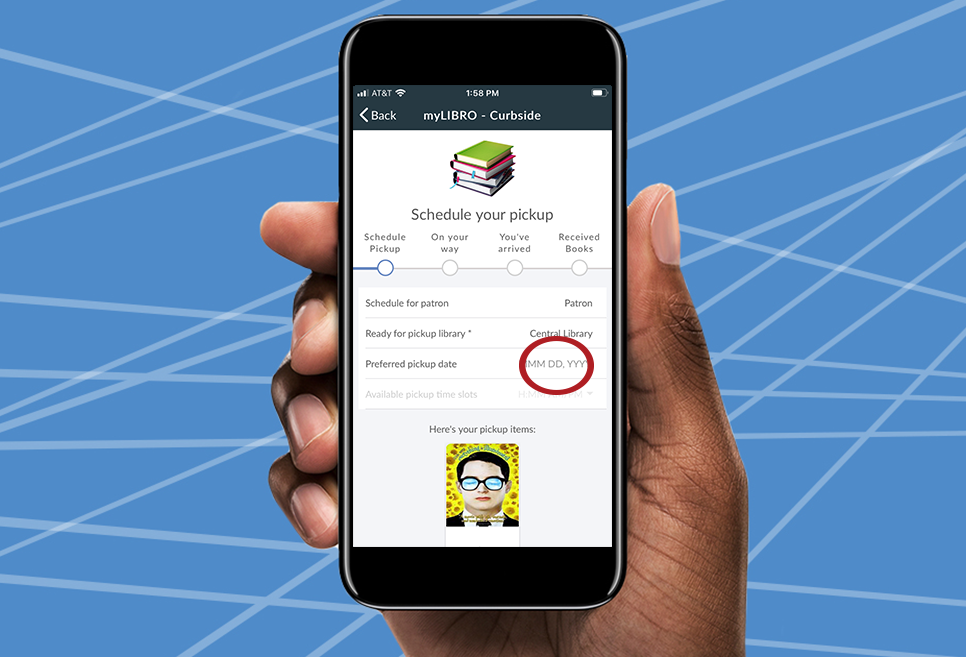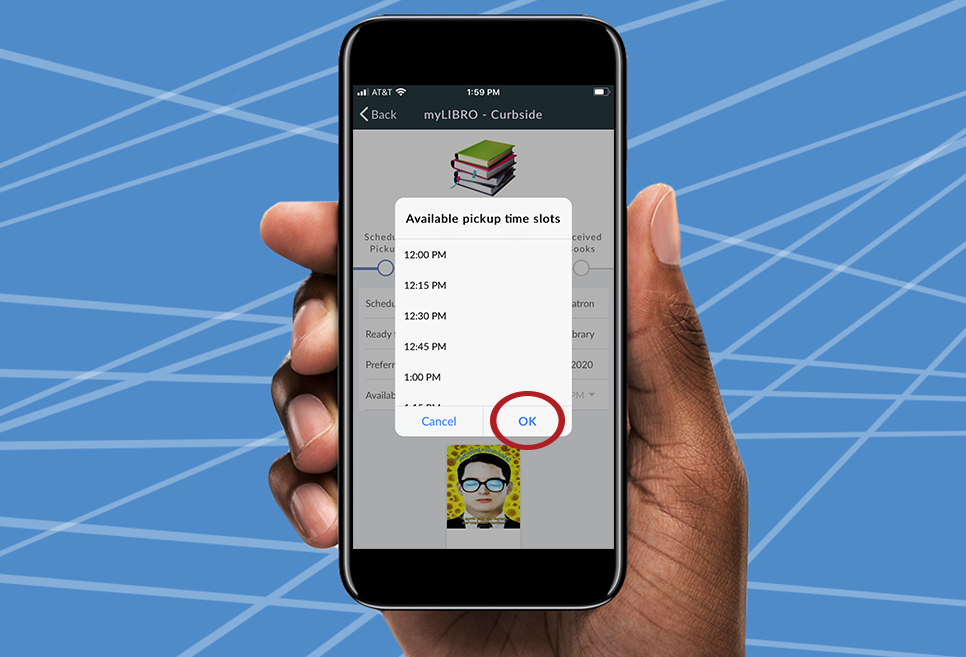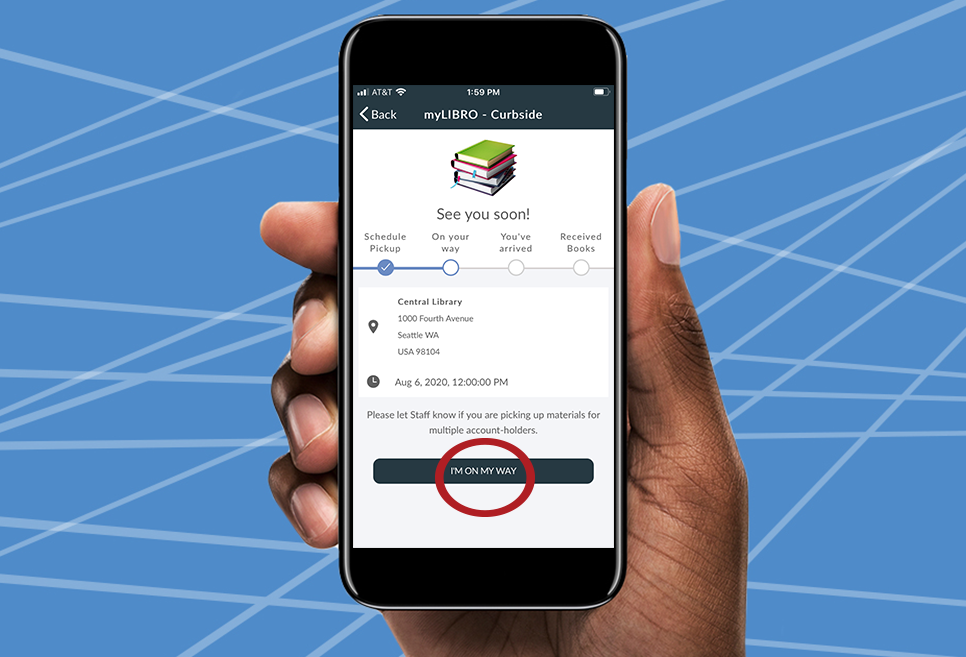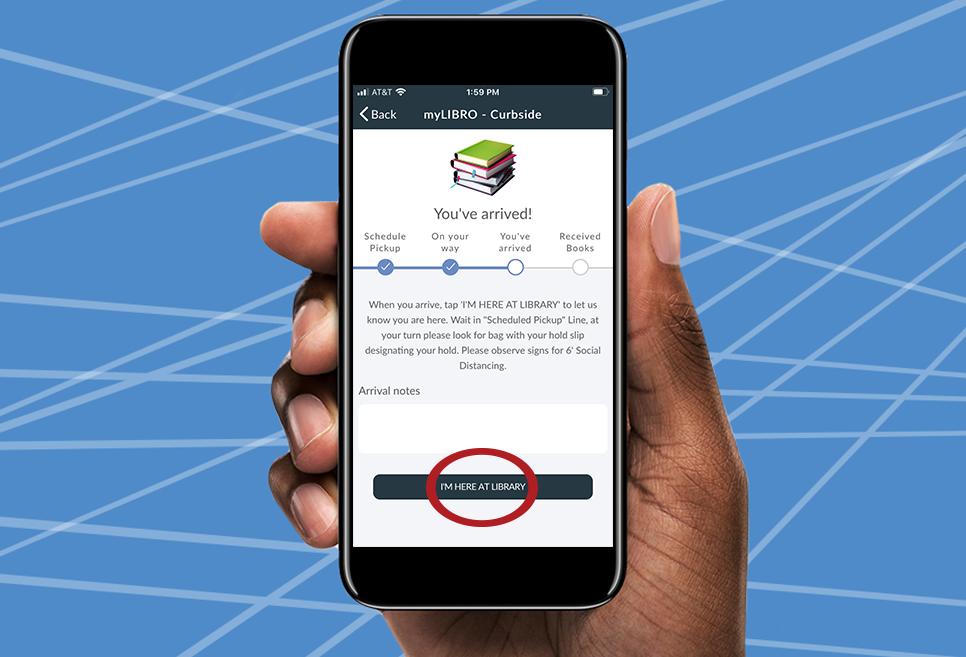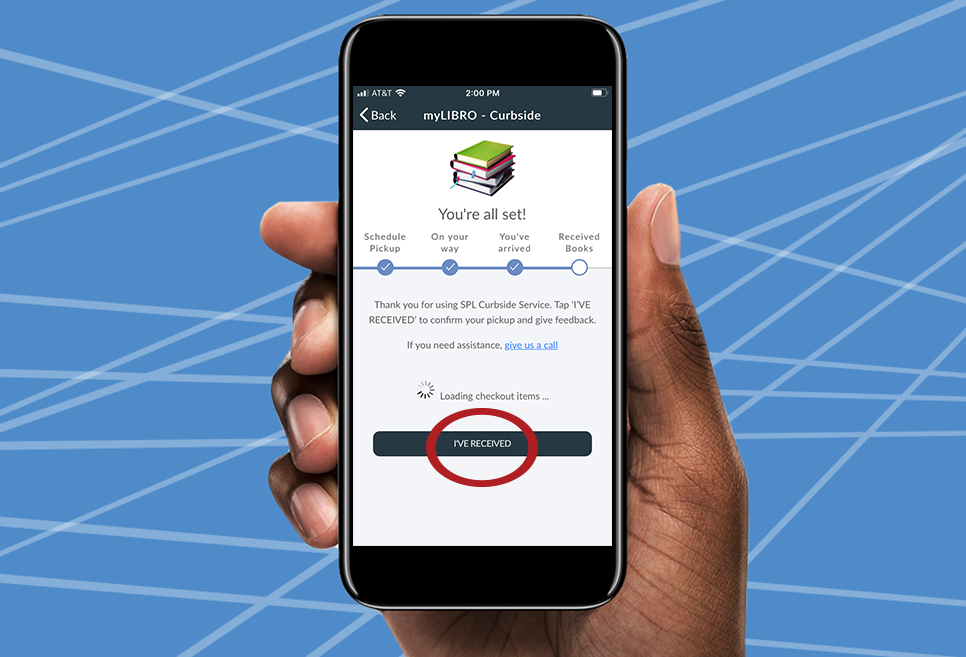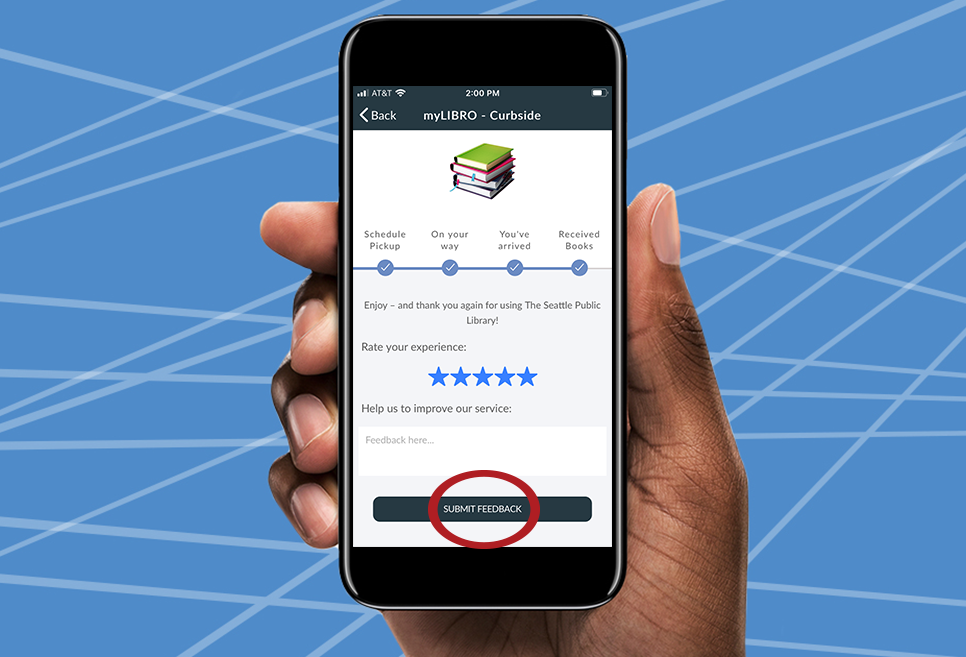 Common Questions about our Curbside Service
What are the safety precautions the Library is taking to prevent the spread of COVID-19 while providing curbside service?
Our curbside operations adhere to the Governor's Phase 2 requirements for libraries, as well as recommendations from the Centers for Disease Control and Prevention, Public Health – Seattle & King County, and the REALM project.
Our Curbside Library services are designed to ensure a completely contactless checkout process and at least 6 feet of social distancing between staff and patrons at all times. Library staff are required to wear a mask and gloves at all times when handling materials. Patrons are also asked to wear a mask when using curbside services.
We quarantine all returned Library materials for at least 72 hours and patrons do not have access to materials for at least five days from their return due to staff processing, shelving and retrieval times. The decision to quarantine materials was based on reputable studies showing the virus is absent on the vast majority of library materials after three days. Rare, trace amounts of the virus have been found up to five days in specific conditions and cases.
When preparing materials for checkout, Library staff follow strict safety protocols to minimize the likelihood of introducing the virus to materials that will be checked out to patrons. Staff go through a daily health screening process before entering the building to work, and they are trained in best hygiene practices to ensure they are using masks and gloves properly.
Why is the Library reducing its holds limit to 25 items?
We are temporarily reducing the holds limit to keep operations running smoothly – and our patrons and staff safe – as we work through a large backlog of requests while working in a limited curbside environment. We hope to increase this limit again soon, once we are able to handle the volume safely. For institutions with Library cards – such as schools, preschools and daycares – hold limits will not change, in order to better support students, teachers and parents during the school year.
If I signed up for a new e-card during the Library's closure can I place holds on new materials?
Yes. If you registered for a new Library account during our closure, you can use this account to place holds on physical materials.
How can I get assistance with placing holds?
Call our Quick Information department at 206-386-4636 or contact us at www.spl.org/Ask to request assistance with placing holds.
If I had holds that were paused, are they still paused?
For all paused holds that were scheduled to reactivate while we were closed, we extended the reactivation date to September 15. Learn more about pausing holds.
Why are some branches selected for Curbside Pickup Service while others are not?
In selecting locations for Curbside Pickup Service, we were sure to open a curbside library in each region of the city that is accessible by car, bus or on foot. Not every Library branch is a curbside branch due to safety concerns and staffing. Some branches are not large enough to safely allow staff to co-work at this time of required social distancing; others are not well-configured to do the work that needs to occur to make Curbside Pickup Service a reality. The Library continues to evaluate how and where an expansion of Curbside Pickup Service could occur.
Why are some Curbside Pickup locations outside of buildings and some are inside?
As the Library prepares to offer limited in-building services under the governor's new guidelines, two curbside locations – the Southwest and Beacon Hill branches – have been established inside lobby spaces. These in-building setups allow for better efficiency in accessing and delivering Library materials to curbside patrons, they help staff and patrons stay warm and dry as we move into winter, and they enable the Library to identify any safety or operational concerns with in-building services on a limited trial basis.

For our indoor curbside locations, the Library has implemented several safety precautions including physical distancing markers, a limit on the number of patrons allowed inside, plexiglass barriers between Library staff and patrons, and the same contactless checkout experience as our outdoor locations.

As the Library transitions to more in-building services, other curbside locations may move inside as well. However, some locations are limited in size and make social distancing difficult, so some curbside locations may continue to be offered outside. We will continue to update this page as services are updated.